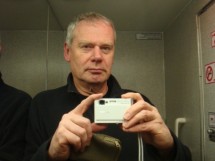 Paul Shepheard
Short CV / RESUME at February 2015
Born 24 November 1947; Studied King Alfred School, London, UK and the Architectural Association
Academic
Artesis, Antwerp, Belgium: Urban Morphology course, winter 10, 11 and 12: Amsterdam Academy of Architecture, Netherlands: Artist in Residence 05/06: City Squares workshop 02: Ruigoord workshop professor, 00; University of Texas at Austin, TX, USA: Visiting Professor 96 – 02; University of Queensland, Australia: Visiting professor, spring 99. Also Universities of Westminster and Kingston, and Architectural Association School, 74 to 95
Architectural Design
ARB registered architect 044265H. Solo practice 86 – 97 including offices and interiors in alliance with the Hodges Jones Partnership. With Hodges and Haxworth, specialising in hospital and health care buildings, 76 to 84. With James Gowan, 74 to 75
Solo Publications
Buildings: Between Living Time and Rocky Space was published by CIRCA, London, in 2016. How To Like Everything, A Utopia was published by Zero Books, London, in 2013. Published in Turkish translation by IKU in 2016. Artificial Love, A Story of Machines and Architecture was published by The MIT Press, Cambridge, MA, USA in 2003. The Cultivated Wilderness: Or, What is Landscape? Was published by The MIT Press in 1997 as part of The MIT Press/Graham Foundation Series in Contemporary Architectural Discourse.  Published in Czech translation by Archa in 2016. What is Architecture? An Essay on Landscapes, Buildings and Machines was published by The MIT Press in 1994. Published in Korean translation by DTI International, in 1999. Published in Czech translation by Archa in 2011.
Other Publications
Grenzeloosheid en intimiteit, Ruimte en tijd, Functie en gebruk  in Architectuur door andere ogen (Architecture for different sight) for Stichting Zilvergris, Utrecht, NL, 2012.  Strange World, Strange People, Strange Self for Project Arts Anthology UK, 2012. The Only Possible World for MASContext Abberation issue, USA, 2011. Slogans and Battlecries: a series of short pieces for Building Design, UK 2011. Funktion folgt Form folgt Funktion folgt Form folgt Funktion in Warten Auf Den Fluss, by Emscher Kunst, Essen, Germany, 2010, Foreword to Understanding the visual byKathryn Moore, Routledge 09; Foreword to Artocracy by Zeiske and Sacramento, Jovis 10. Public Art and Public Space, essay in Kuntswerken voor de publieke ruimte, Podium Voor Architectuur Haarlemmermeer en Schipol, 09. Critical Action and Active Criticism, essay in Critical Architecture Ed. Rendell, Hill, Frazer, Dorian, Routledge 07. How To Like Everything essay in A/S/L Academie Van Bouwkunst yearbook 05/06 published by 010, NL, 07. 'Doodlebug', 'Lions', and 'Sardines' published as part of Normand Park renovation project, 06. Geographics collaboration with photographer Dan Holdsworth published by MIMA, Middlesbrough, UK, 05. Machines of Hope, essay on Scottish coast in 6000 miles catalogue, Lighthouse, Glasgow, UK, 05. Coda in Peter Shepheard monograph, Landscape Design Trust, 04. Life and Death in Hackney, essay in Tom Hunter, published by Hatje Cantz for White Cube Gallery, London, UK, 03.  Grounds for Dispersal essay on collaborative design practices published by Harvard Design Magazine, Cambridge, MA, USA, 01. Also articles and reviews for Building Design, TOPOS, SCAPE, New York Times, Architecture Today, Blueprint, Afterall, Plurimondi, Platform and others.
Other Activity
Lecture for Twentieth Century Society on Sir Peter Shepheard March 15, chair, manchester school of architecure symposium on Utopia March 14, Lecture for Longplayer, Artangel, June 12. lecturer at Extreme Space  seminar for ProjectArtworks, 2011. Lecturer at Marcia Farquhar's The Open University 2011. Speaker at various symposiums including: A Wider View, Appledoorn Triennale, NL, 08; TOPOS, Landscape Awards, Munich, Germany, 07; Writer in residence at DeveronArts, Huntly, Aberdeenshire, UK, 07; DEFRA Rural Building, York, UK, 05. Breathtaking, on wind farms, Huntly, Scotland, 05; Field Trip, The Lighthouse, Glasgow, UK, 04; Meeting in the Mountains, Billings, MA, USA, 03; Where is the Centre? Munster, Germany, 00.
Past member of Building Futures advisory panel, London. With Dan Holdsworth, photographer, collaborating on picturing the new MIMA gallery in Middlesbrough, as Be Unafraid, Teesside, UK, 07. Writer in residence to Hackney Public Arts project, London, UK, 00. Advisory Committee to Artangel, London, UK: A Piece of Music to Last a Thousand Years, 98 and 99.
Exhibited at various institutions between 76 and 99: Lectured extensively in North America, Europe and Australia since 1995